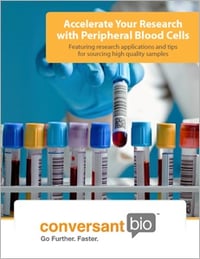 Blood and the system that forms it (the hematopoietic system) are composed of a diverse assortment of cell types, each with unique functions. These cells function through a complex system of signals and interactions with each other and with other components that are found in the blood stream. Physicians and researchers can run assays to quantify certain signals emitted from varying cell types within blood.
By analyzing and studying these assays, physicians and researchers can learn about the state of a patient's immune system or find biomarkers which indicate the state of disease of a patient. Drug discovery and biomedical research advances with the aid of high-quality human biospecimens.
One of the most versatile is the peripheral blood mononuclear cell (PBMC). These cells are critical components of the immune system, involved in both humoral and cell-mediated immunity.